Welcome to the expert equipment supplier EXPERT GEAR.
We offer you sophisticated accessories, specially designed for automotive experts and garages. The focus is on items with features that make your everyday work easier, especially in the case of loss adjusters and valuers, while also helping you to achieve professional results. We constantly endeavour to expand our product range so please check our website regularly for information about new products. If your everyday work leads to any questions or suggestions for new products for automotive experts, please do not hesitate to contact us.
A sale is only made to entrepreneurs, business owners, freelancers, public institutions and not to consumers within the meaning of § 13 BGB.
NEW PRODUCTS
---
Due to the current situation
we also offer some new articles at the moment

on the subject of occupational health and safety.
Magnetic ruler, 15 cm, yellow
For indicating the size of minor bodywork damage on photographs. Coloured for better visibility on light/white surfaces. Rulers stick to all surfaces that contain steel.Size L 15 cm × H 3 cm.
Dent card, 2-coloured (white/black)
Handy rigid dent card (DIN A4), printed on both sides, transparent. Robust material made of acrylic glass with rounded corners. The front is white and the back is printed in black. The white side is ideal for displaying dents on black/dark cars. For easy carrying in the expert case. Ideal for mobile use. Size (W × H x D): 297 × 210 × 1.5 mmIncl. practical plastic cover to protect against dirt and for filing.Weight: 114 g
Magnetic arrows, 40 mm, red
For displaying minor damage in photographs (previous damage or for vehicle return reports). Arrows stick to all bodywork parts that contain steel.Contents: 39 arrows (W 4 cm × H 0.7 cm, arrow tip approx. 1.2 cm). Colour: redAvailable in red or yellow.
ARBEITSSCHUTZ
---
Auf Grund der aktuellen Situation
bieten wir zur Zeit auch einige neue Artikel
zum Thema Arbeitsschutz an.
Disposable face mask, 10 pcs.
Disposable face mask for use in public areas, e.g. workshops, car dealerships or for customer contacts. Disposable mask 3-ply Integrated shaping wire for adjustment in the nose areaFixation via stretchable ear bandContent: 10 piecesNo certification as respirator and not PSA tested!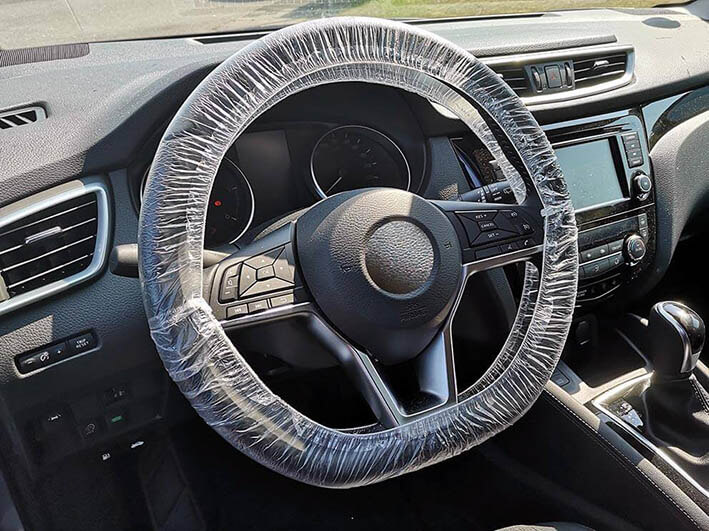 Disposable steering wheel cover, 50 pcs.
Steering wheel covers to protect your customer's vehicles from dirt during vehicle inspection or maintenance. Practical and hygienic protection against viruses. With elastic band on 2 sides for easy attachment and removal. Elastic and stretchable material for steering wheel diameters up to 40 cm. Universal size, fits all standard car sizes Plastic, transparent 50 piecesAlso available in sales unit with 250 pieces.
Face mask, 3-layered, blue
3-layered Face mask with adjustable clip – water repellent & antibacterial. 1 Piece: Colour blue Material: - Outer Layer: Woven fabric 100% Polyester Nano Technology, anti-UV, anti-bacterial, water repellent- Padding Layer: Woven fabric 100% Polyester- Inner Layer: Knit fabric 100% polyester, anti-bacterial- Ear Loop: Knit fabric 75% polyester 25% spandexWater repellent: helps to prevent water drops and pray infiltrationAntibacterial: cloth technology helps block up to 99,98% of bacteriaAnti Dust: dustproof yet breathableAnti UV: cloth technology helps to prevent up to 95% of UVA and UVB raysSize adults (width x height): 25 × 14 cmEar Loop: 11 cmAdjustable nose clip, 9 cmStorage and care information:Handwash at normal temperature.Do not use detergents.This product can be ironed.For sterilization put in oven for 5 mins at 75°C.Store in a dry and ventilated place.Antibacterial functionality remains optimally efficient in the first 20 washes and will still remain its effectiveness in the next sequential 10 washes.No certification as respirator and not PSA tested!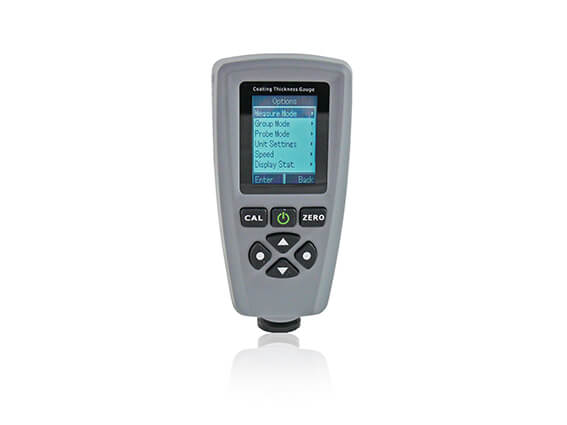 DT-168 – Coating thickness gauge
Dual gauge with automatic substrate identification. For measurements on FE and NFE metals (e. g. aluminium) Measuring depth of up to 1.300 µm Automatic metal identificationSingle-handed use Robust housing with integrated measuring probe Automatic switch-off function Measurement accuracy ± 3 % Batteries and calibration sheets included Comes in a robust plastic case PC software for data readout and process (Windows) For 2 × micro/AAA/LR03 batteries(not included, please order separately)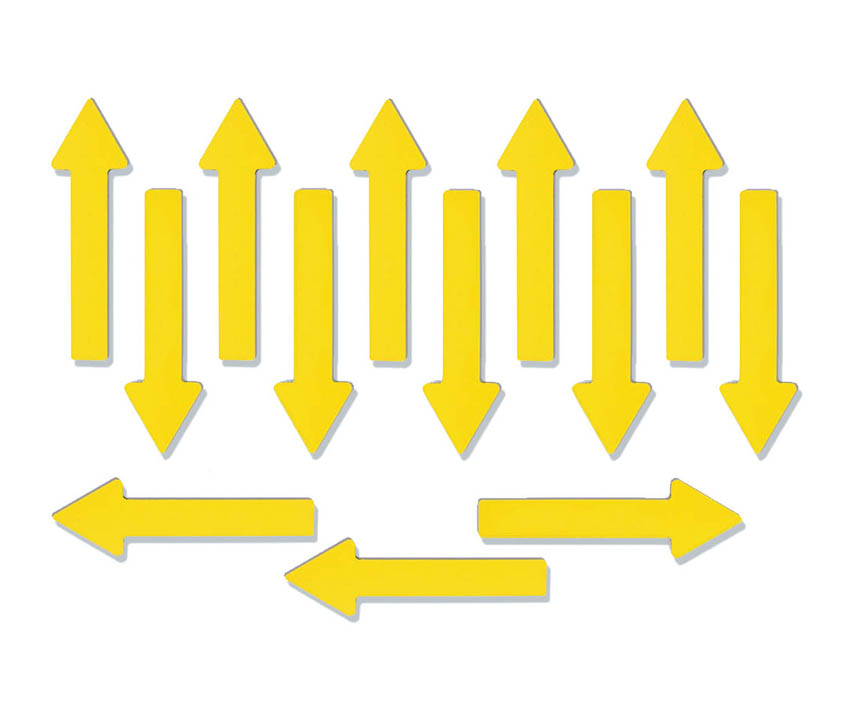 Magnetic arrows, 75 mm, yellow or red
For displaying minor damage in photographs (previous damage or for vehicle return reports).Arrows stick to all bodywork parts that contain steel.Contents: 13 arrows (W 7.5 cm x H 1 cm, arrow tip approx. 2.5 cm)Available in the colours yellow or red.
Quick reference gap gauge, wedge type
Gauge for measuring bodywork gaps. To quickly conduct comparative measurements of gap sizes in order to draw conclusions about any bodywork warpage. Scale printed on both sides and practical indent enables good grip. Made from plastic so as not to damage paintwork.Dimensions: 8.5 × 2 × 1.5 cm.